How To Build A Capsule Wardrobe - Project 333
Capsule wardrobe is a collection of clothes, shoes and accessories that includes only those items that are considered essential. It is a person's basic collection of coordinating clothes that can be used to form the basis of outfits for all the occasions and a set of clothing, normally around 24 items, which can be mixed and matched to create a wide variety of outfits.
In a simple form, it is a small collection of 33 items including clothing, shoes and accessories built for use during a 3 month period of time. You can have 4 capsules, one for each season, with the items overlapping for each season. Not each item is essential in terms of survival, but essential in the name of minimalist fashion.
Now that you can only use one small side of your closet, whenever you are creating a new collection, just hang the pieces that you know you will keep on one side, and maybe on the other.
Ways to get your own Capsule Wardrobe:
Make a list of how many of each item you think you will need. You can have your list like this:
2 Sunglasses
1 Purse
2 Dresses
2 Skirts
1 Jeans
1 Dress pants
2 Light Sweaters
2 Blazers
2 Tanks
1 Button Down Shirt
5 Shirts
1 Sweatshirt
5 Shoes
3 scarf
2 Bracelets
1 Necklace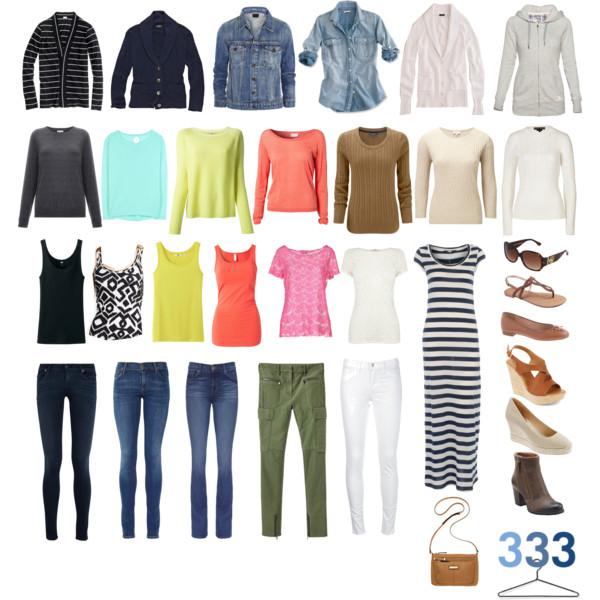 Total items should be 33. This is just an example you can have your own 33 items according to your priorities. This will create a minimal wardrobe for you. The people who have a huge or extra filled wardrobe find it tough to minimize but you should cheat for a couple of weeks and let it play itself out.
---- Advertisement ----