Meryl Streep's Fans? Meet her Children
Meryl Streep is unquestionably the greatest actress of our time. She may not have conventional good looks but she does manage to pull off a sexy style all of her own. After decades in the entertainment industry the Grand Dame of the movies can comfortably rest on her well earned laurels but the next generation of Streep women are coming into the limelight. Meryl Streep's three daughters and one son, Henry, are the product of her 36 year marriage to Don Gummer, a sculpture.
Meryl has three daughters, Mamie, Grace and Louisa Gummer. The three girls have recently been signed as the new faces for the H&M's sister brand "& Other Stories." They feature in the ads together wearing casual wear. They showcase styles by Clare Vivier's Co-Lab Collection which includes shoes, bags and accessories. The collection combines French-style chic with care-free California looks. Meryl's daughters are friends with the designer and so hiring them for this gig was a natural choice. Clare Vivier calls the sisters "creative, hardworking, stylish city girls." In the ads they pose together and by themselves.
They share their mom's no-nonsense, completely authentic-self image. They may be tall, blonde and slim but like their mom their looks are not the stereotypical American beauties which makes them very relatable. The fresh faced unpretentious girls wear little make-up and their hair is left natural. By hiring the three mini-Streeps H&M is joining a number of brands now getting in on the trend to hire celebrity children. The ad campaign was shot by famed fashion photographer Stephen Shore. The accessible clothing collection is available in & Other Stories stores and prices range from $11 to $200.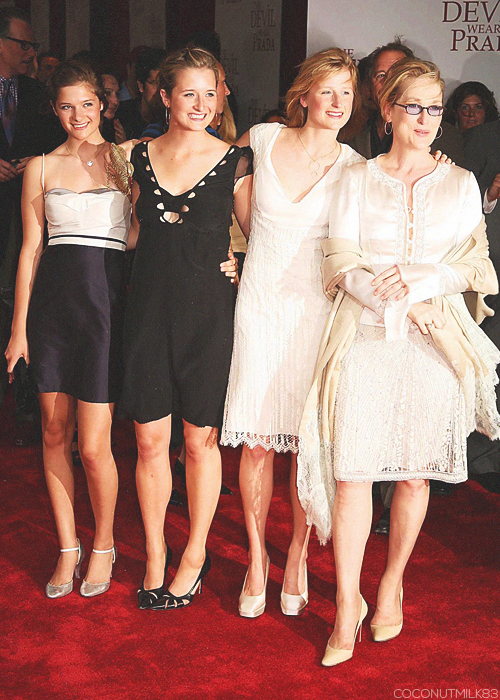 Who are these girls?
Grace Gummer is 28 she is an actress who has appeared in American Horror Story, Extant, Frances Ha and HBO's The Newsroom. Mamie Gummer is 31 she is also an actress best known as the sly yet ditsy lawyer Nancy Crozier on The Good Wife and in the title role on Emily Owens, M.D. The youngest sister, Louisa Gummer, 23, is a professional model signed to IMG Models.
Henry Wolfe Gummer is the only Streep sibling not to appear in the new & Other Stories ad campaign. Henry is a 35 year old songwriter, singer, musician and actor living in Los Angeles. Henry co-founded the indie pop band Bravo Silva. He has released several albums and has been named an artist to watch by the Los Angeles Times. He has also appeared on Jimmy Kimmel Live and had his songs used in several movies. His acting career includes appearances in The Good Shepherd and Lying.
---- Advertisement ----